Contents
Greeting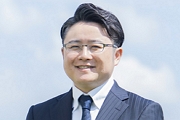 Corporate Philosophy
Founded in 1927, we have devoted time and effort to create new lubricants which support the technical innovation of metal-working industry. As of today 5,000 customers with more than 2,000 products in Japan.
In late years, Japanese companies work for developing new production technology in pursuit of enhancing commercial value on their products as emerging countries have been increasing their presence in global market through rapid industrialization, and our products developed from our accumulated experience and idea have been served to meet their specific requirement.
We aim to fulfill our social responsibility and conserve the global environment by providing the best, regulation coping, environment friendly products to our customers.
We shall contribute to the creation of a prosperous society as we ensure that all our employees have an awareness and understanding of the importance of corporate ethics, people's value, and environment protection.

Company Summary
Firm Name
Nihon Kohsakuyu Co.,Ltd.
President and CEO
Shigeru Kobori
Founded
April, 1927
Incorporated
April, 1953
Head Office
5-29-14 Shiba Minato-ku Tokyo 108-0014, Japan
TEL:+81-3-3455-5511
FAX:+81-3-3453-2667
Technical Center
TEL:+81-49-251-3611
FAX:+81-49-251-3624
Plants
Saitama
TEL:+81-49-251-3611
FAX:+81-49-251-3614

Kyushu
TEL:+81-9496-6-3055
FAX:+81-9496-6-3057
Overseas Associated
Production Company
LUBE TECHNOLOGY CO., LTD

Bangkok Office
22 FL., PASO TOWER, 88 SILOM ROAD,SURIYAWONG,
BANGRAK,BANGKOK 10500, THAILAND
TEL:+66-2634-3855
FAX:+66-2634-3856

Chonburi Factory
700/883 MOO 3, AMATA NAKORN INDUSTRIAL ESTATE,
T.NONGKAKHA, A.PHANTHONG, CHONBURI 20160, THAILAND

Primary Customers
Auto Industry
Nissan Motor Co.,Ltd.
Toyota Motor Corp.
Honda Motor Co.,Ltd.
Mazda Motor Corp.
Mitsubishi Motors Corp.
Isuzu Motors, Ltd.
SUBARU CORPORATION
Suzuki Motor Corp.
UD Trucks Corporation
Yamaha Motor Co.,Ltd.
Auto Parts Industry
Denso Corp.
Unipres Corp.
Aisin Seiki Co.,Ltd.
Yorozu Corp.
CALSONIC KANSEI Corp.
Mitsui High-tec,Inc.
Shinko Electric Industries Co.,ltd.
Sawafuji Electric Co.,Ltd.
Molex Incorporated
Tyco Electronics Japan G.K.
SteelIndustry
Nippon Steel & Sumitomo Metal Corp.
Kobe Steel,Ltd.
JFE Steel Corp.
Takasago Tekko K.K.
Sanyo Special Steel Co.,Ltd.
Non-Ferrous Industry
Sumitomo Metal Mining Co.,Ltd.
Hitachi Metals, Ltd.
Nippon Light Metal Co.,Ltd.
Furukawa Electric Co.,Ltd.
UACJ Corp.
Machine Products Industry
Toshiba Machine Co.,Ltd.
Komatsu Ltd.
Ebara Corp.
Mitsubishi Heavy Industries, Ltd.
IHI Corp.
Electric Products Industry
Panasonic Corporation
Hitachi, Ltd.
Toshiba Corp.
Mitsubishi Electric Corp.
NEC Corp.
Sanyo Electric Co.,Ltd.
FUJI ELECTRIC FA COMPONENTS SYSTEMS Co.,Ltd.
Oki Electric Industry Co.,Ltd.
Sony Corp.
Meidensha Corp.
OMRON Corp.
Clarion Co.,Ltd.
TDK Corp.
Pioneer Corp.
Alps Electric Co.,Ltd.
Mitsumi Electric Co.,Ltd.
Mitsui Mining & Smelting Co.,ltd.
Shiroki Corporation
MITSUBA Corporation
Precision Instruments Industry
Nikon Corp.
Canon Inc.
Seiko Epson Corp.
KONICA MINOLTA, Inc.
CITIZEN MICRO Co.,Ltd.
HOYA Corp.
Other Industres
Yamaha Corp.
Asahi Glass Co.,Ltd.
TOYO SEIKAN KAISHA LTD.
Chofu Seisakusho Co.,Ltd.
Rinnai Corp.
NHK Spring Co.,Ltd.
Paloma Co.,Ltd.
Toyo Glass Co.,Ltd.
YKK Corp.
Toto Ltd.